An inspiration from Germany: a layered Donauwellen cake:
The name of this traditional German pastry is translated to be Danube waves cake, this is because of the shapes that the different layers of the cake create when they are put together in the baking process and portray the waves of the Danube river. The layers of this cake also please a crowd that is a fan of different flavor cakes and fruits all together in one dessert. Vanilla and chocolate cake, paired with sour cherries, layered with vanilla cream and topped of with a chocolate glaze are the components of this German delight. Bavarian Kitchen has this and other German recipes that will give you a brief explanation of the dish and will also take you step by step on how to make this and other German dishes and desserts.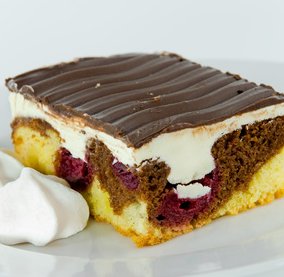 Donauwellen Cake, a German dessert that simulates that shapes of wave from the Danube River.